THE INTERNET
Its undeniable. The internet is the present and future of real estate marketing and sales. Traditional marketing methods are largely self promotion and have become ineffective. Unnecessary costs our competition continues to pass on to you through high commissions.
Consider this: Research now shows that you are 500% more likely to sell a home through the internet than through a newspaper.
Each and every year we have successfully saved our clients thousands of dollars by marketing their home where the buyers are (the internet).
We showcase your home with up to 20 photos online at the #1 real estate web site in the world Realtor.com with over 6.2 million users per month.
Realtor.com serves both local and worldwide buyers. Think about it. Local and out of State relocation buyer's are not reading the out of date print ads of the local newspaper to find a home. Only a fraction of available properties for sale are print advertised.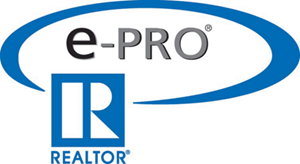 Sell With A Certified Internet Specialist
David has joined the elite group of REALTORS by earning the prestigious technology certification offered by the NATIONAL ASSOCIATION OF REALTORS.
The e-Pro certified agent has the experience and expertise to meet the demands of today's buyer and seller.
Do Not Overlook Experience
With over 67 years of real estate experience we have seen and successfully worked through many different conditions. Carolyn is a career broker/realtor with over 28 years of achievement in all market conditions.
David's association with Martin-Mitchell.LLC brings 13 years of real estate sales and 26 years of municipal planning/zoning experience. We are the only local Real Estate Company we know of with a Certified Land Use/Zoning Professional on staff as a licensed Realtor.
Complete Services Provided
We prepare your competitive market analysis to help you establish your homes value

Explain all required contracts and documents

Marketing photography completed

Yard signage provided and maintained

Your home marketed online (where the buyers are) with Realtor.com, Connecticut MLS, CTReal.com and our website

We prepare weekly Realtor.com activity reports for you to track marketing results

We welcome cooperative real estate agents

Open houses conducted if requested

Negotiate on your behalf

Follow sale to completion and manage all details. Monitor completion of all contract requirements

Attend your closing
What Have We Learned Summary
We know our business. The internet is the present and future of real estate

The latest internet technologies have changed marketing concepts resulting in lower costs to brokers. You keep this savings

Home buyers are increasingly using the internet to search for their next home. According to National Association of Realtors 90% of home buyers begin their home search on the internet.

Experience in all market conditions matters

Martin-Mitchell is embracing technology and leading the way with our 3.75% commission rate.

We use proven internet marketing. 90% of home buyers search for their next home on the internet.

Your home showcased with up to 20 photos and video online at the #1 real estate web site in the world www.realtor.com with 6.2 million users per month.

Your home listed online at www.ctreal.com Eastern Connecticut's MLS.

Your home featured on our web site. www.CarolynRMartin.com See our view listings page.

A yard sign in front of your home which directs interested buyers of your home to our web site for detailed information and photos.

The e-Pro certification demonstrates our commitment to utilize all real estate related computer technologies to meet the demands of today's buyer and seller.
THE BOTTOM LINE
You get experience, knowledge, full service and results at great savings
OUR 3.75% Commission Rate
Includes All Services. No Other Fees
MLS, Internet Marketing And Full Personal Service.